Nursery Reveal: Fitting Two In a Room!
It's finally done! All this nursery needs now is a little babe sleeping in that mini crib! This project (like most) became much bigger than we anticipated. So much painting, wall papering, finding the perfect decorations, putting furniture together and even making a closet where there were just shelves! At one point Justin realized he was actually putting the wall paper on upside down and I honestly thought he was just going to throw in the towel! It all proved to be worth it in the end as we are really happy with how it turned out!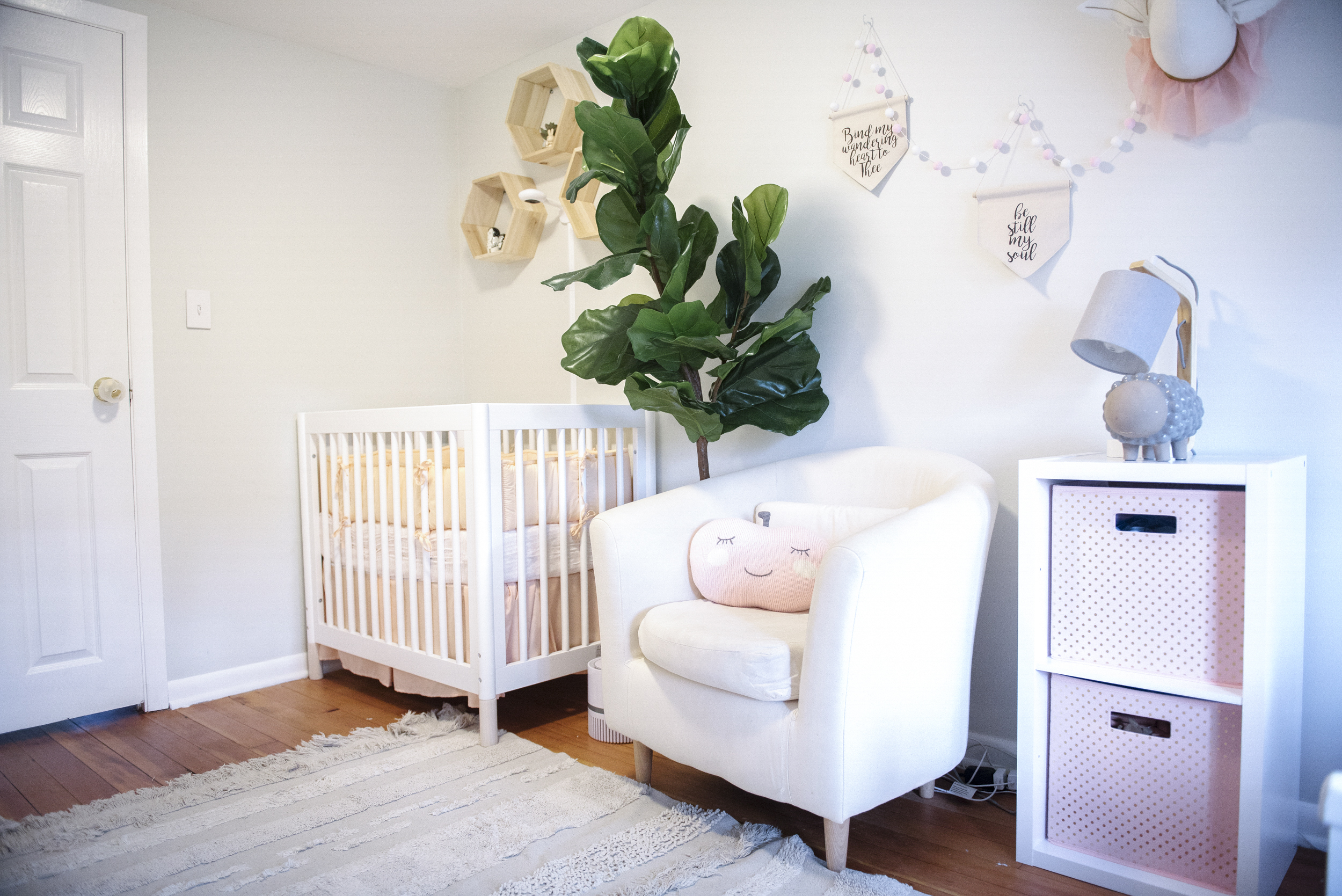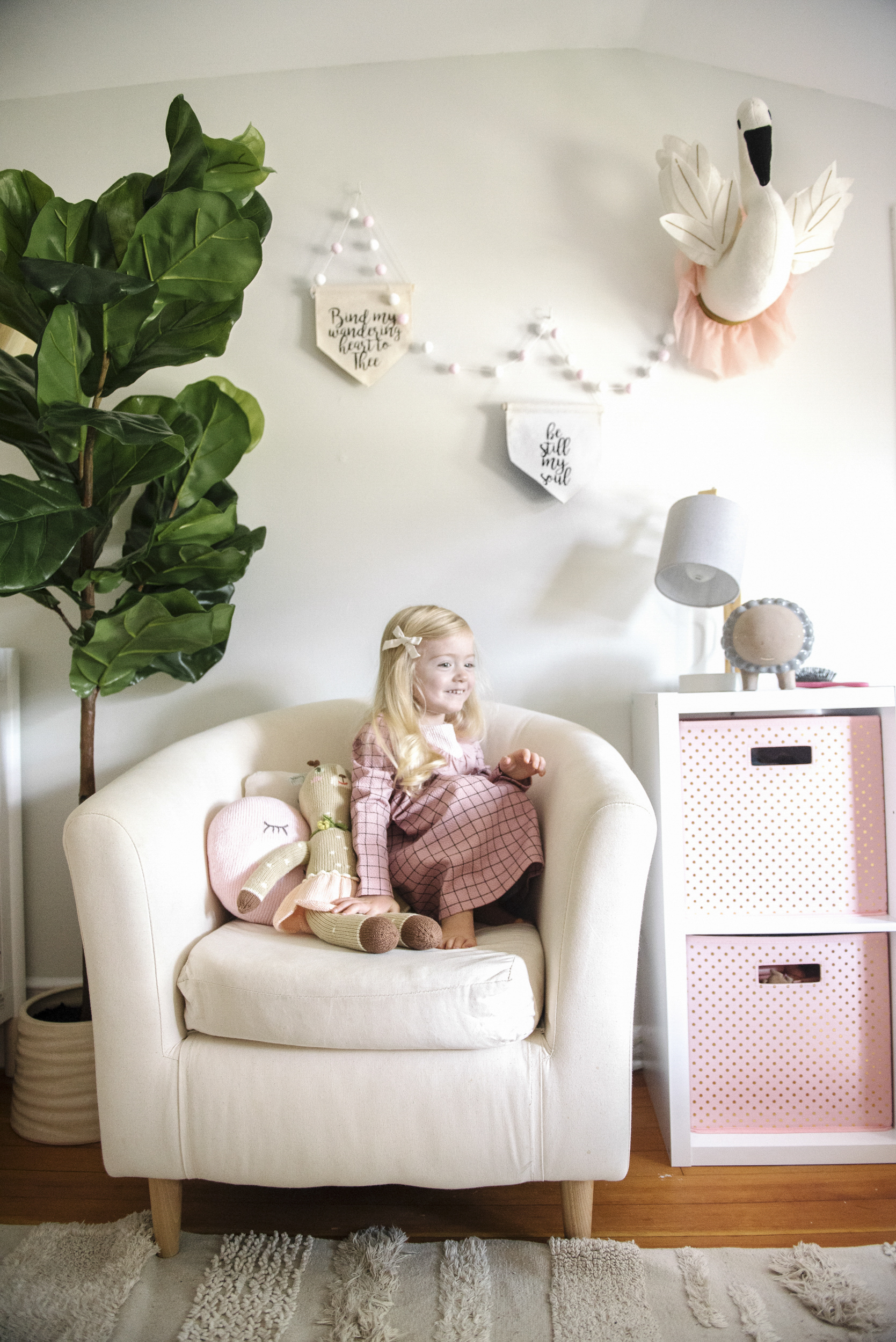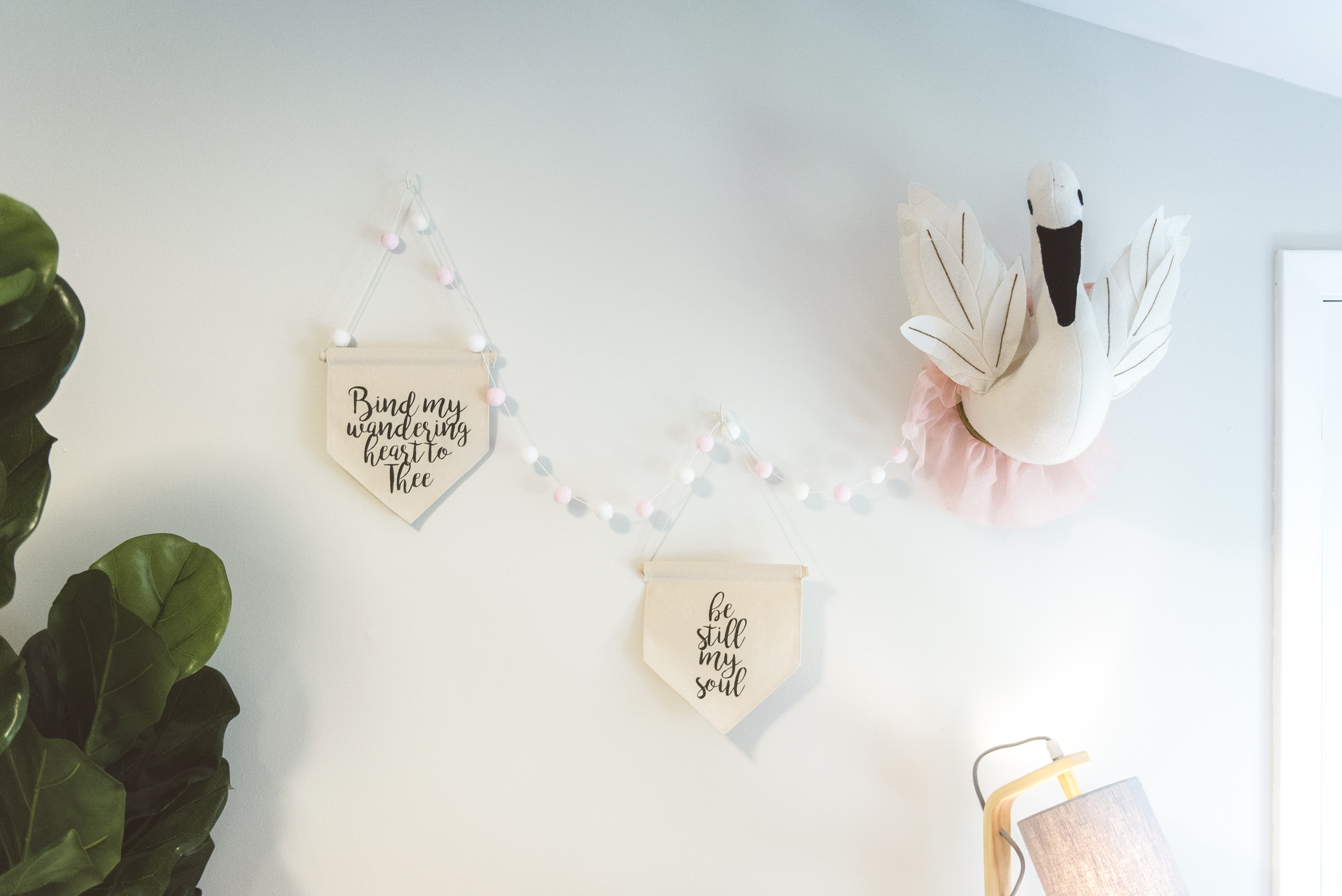 Ayla's bedroom is super tiny so we knew from the beginning it would be a challenge to fit her sister in the room with her. We decided to go with a toddler bed and mini crib combo so everything would fit. I looked at tons of mini cribs but Babyletto by far had the cutest designs. We fell in love with their Gelato crib and bought the matching three drawer dresser to go with it. I love that the dresser has the built in changing table right on top to save space as well!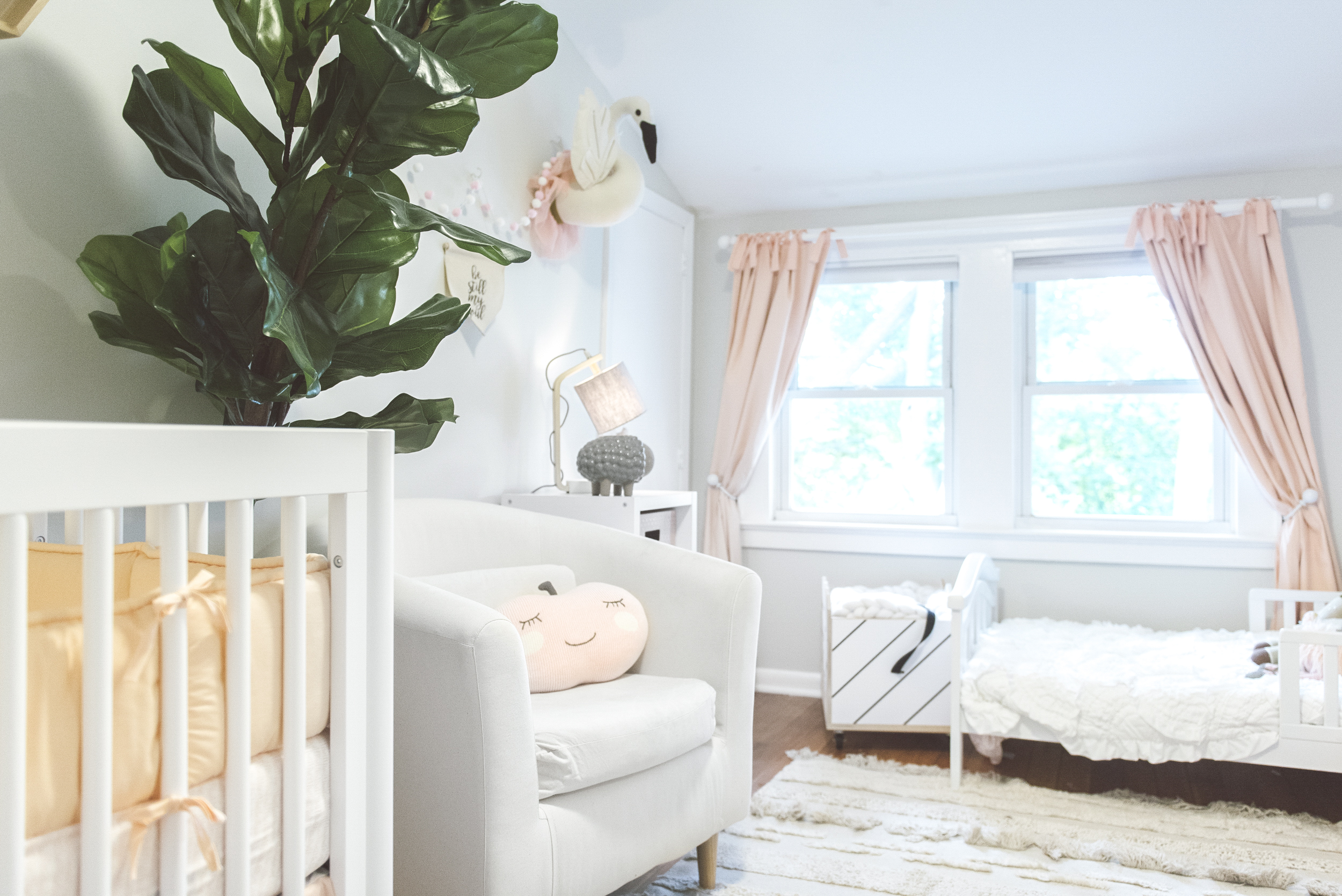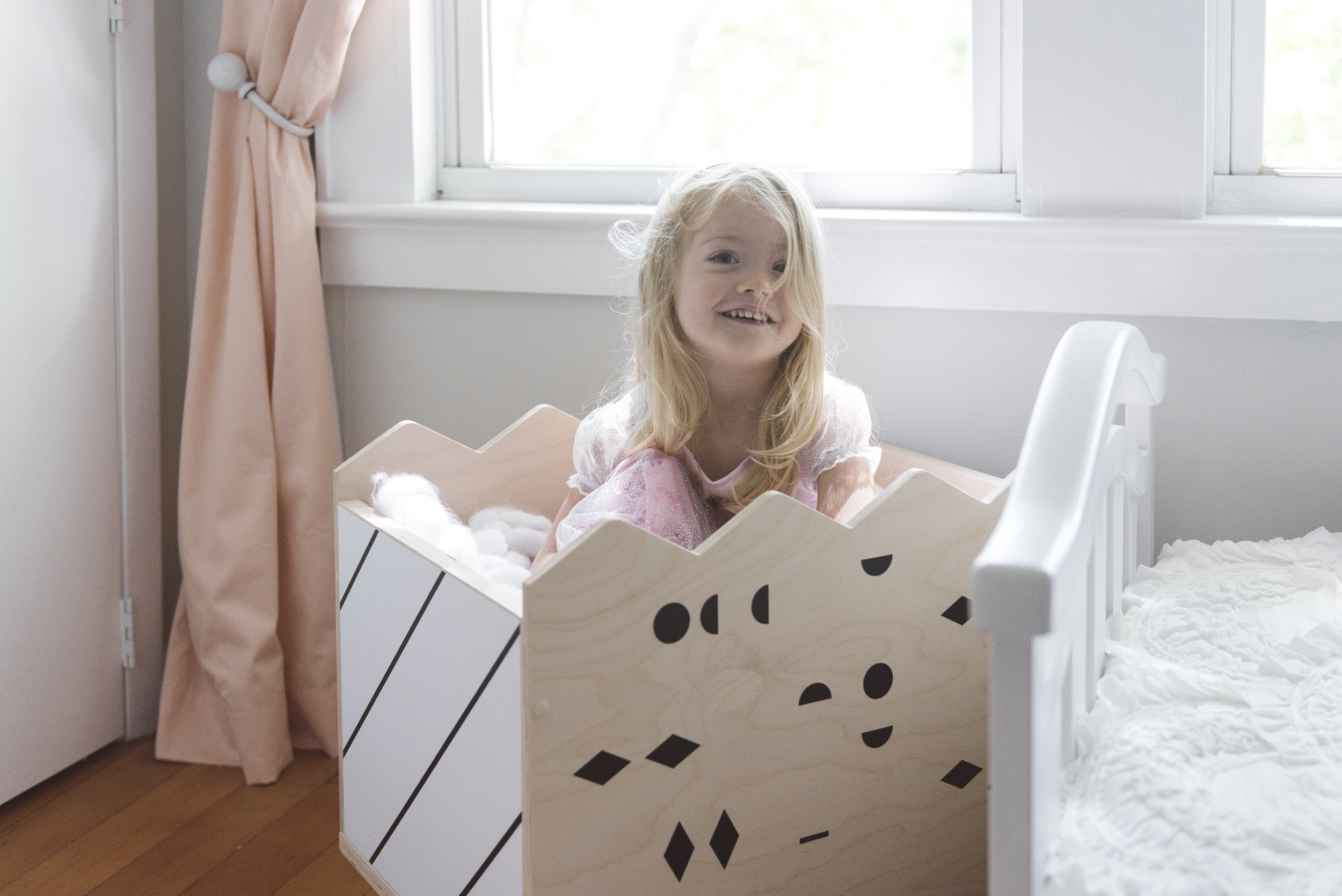 The wall paper was really where I started with the décor of the room. I had so much fun finding a print and some of you even weighed in on my final decision via IG stories! I absolutely love the print we ended up going with from Anthropologie! I was initially worried about finding bedding that would match since it's really quite a challenge to find mini crib and toddler bedding that go together (no less match the rest of the room!). I was so relieved when I found Carousel Design's selection. They honestly have everything you could ever need from mini-cribs to big kid bedding! I couldn't believe the amazing selection and found the perfect peach bedding, changing pad cover and drapes to match. You can even shop the print's by color on their website which made the whole process so easy for me.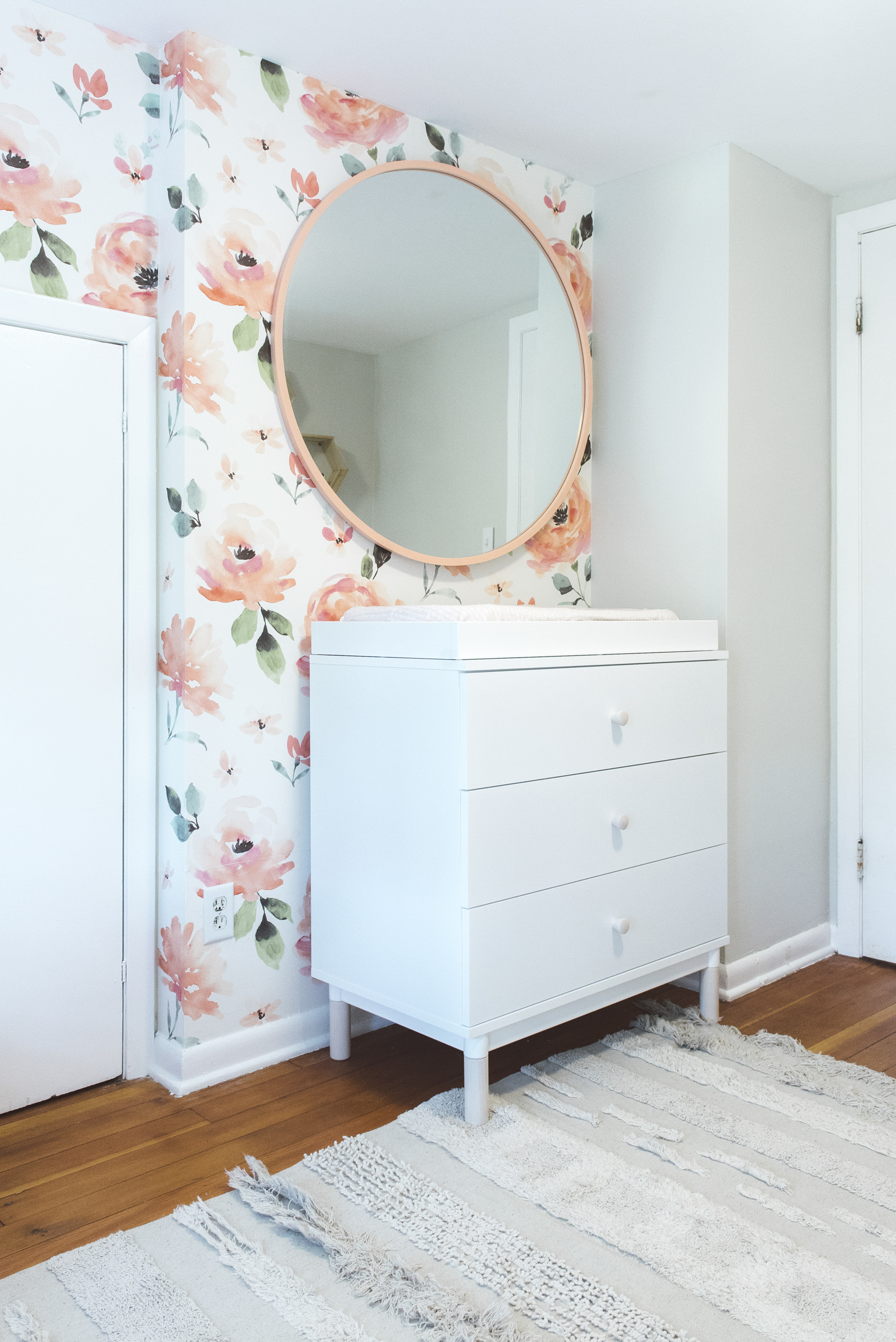 Let's talk rugs for a second. Out of all the new cuteness in the nursery, I might be most excited though about our Lorena Canal rug. This is the third rug we have owned in the 3 years of Ayla's life because we can't seem to keep them clean. Our other rugs were just impossible to wash and after a few major mishaps (like the phase where Ayla was trying to change her own diapers!) we had to say goodbye to a few. I can't tell you how amazing it is to have a rug that's machine washable! Lorena Canal doesn't know it yet, but she's definitely my new BFF. They also have the cutest baskets for toy and blanket storage. We also found this super unique wooden toy bin on wheels from project nursery to store Ayla's additional toys and blankets…and occasionally even Ayla herself! She seems to be under the impression that it doubles as a carriage to take her to the ball and she loves to sit in it!