Where to Stay in Boston: A Review of the Hilton Boston Woburn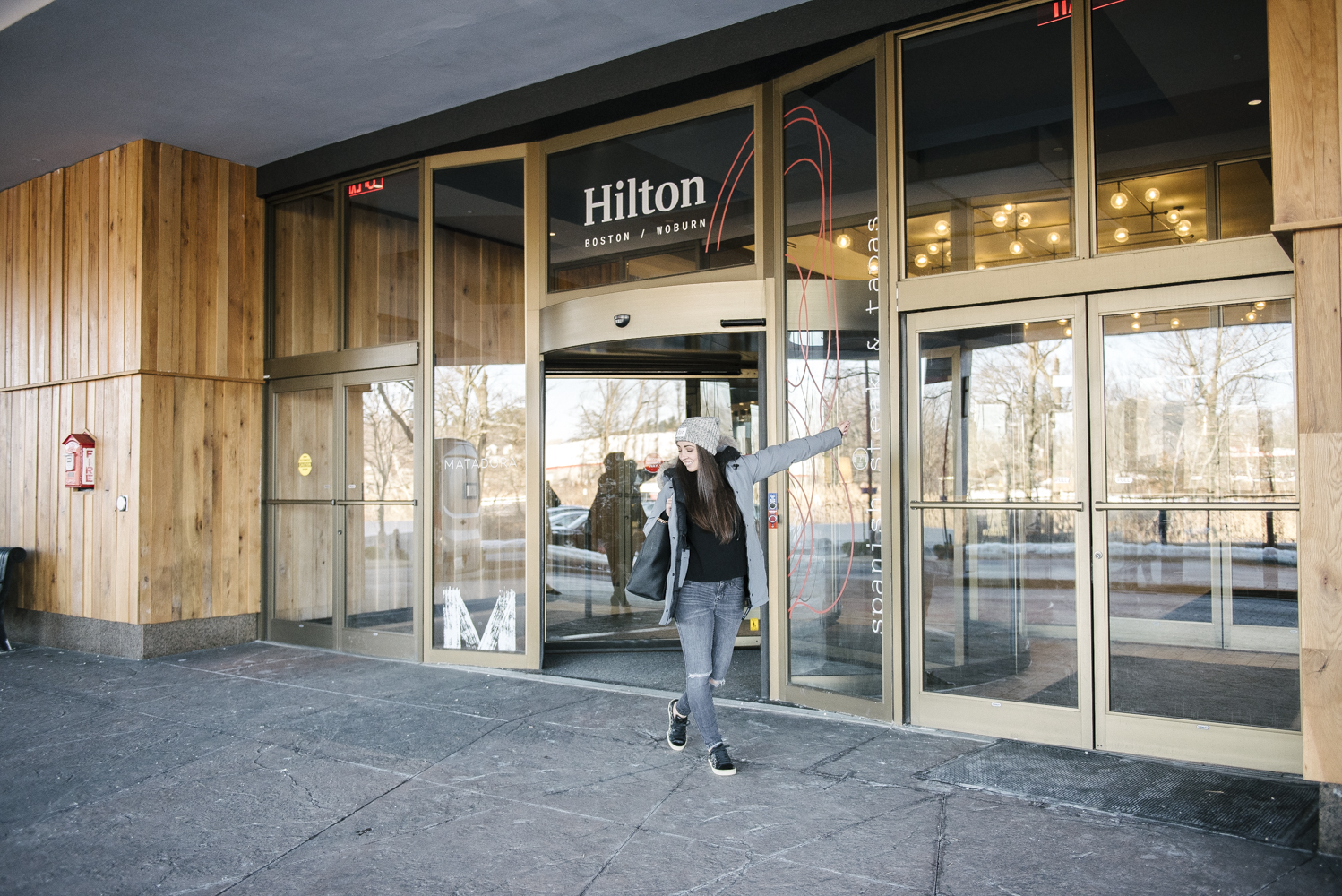 Winter months have always been harder for me. After December I am already over the cold, dreary long months leading up to spring. One of the ways I have started to cope with the "blah" of winter is to put some fun weekend getaways on the calendar. Having things to look forward to really makes such a difference for me, so for my Birthday weekend this year we decided to plan a trip away to Boston. We found the Hilton Boston Woburn and decided it would be the perfect place to getaway. They are located right outside of downtown Boston so it's great for a quieter getaway.
I was quite honestly blown away by this hotel! The photos of it that I had seen online just didn't do it justice. When you walk into the lobby the Matadora restaurant is on your left and reception is to your right. It's a beautiful foyer and the ambiance is so warm and yet very modern. We arrived in the evening on a Friday so the restaurant was packed with people at the bar and live music playing. It smelled incredible and I couldn't wait to get settled in and head down for dinner.
When we got to our room I couldn't believe that we had our own personal balcony that overlooked their swimming pool! The room was fairly large and we had the most comfortable pillow top mattress to sleep on. They even had a sound machine built into the headboard that you could adjust which led to one of the best nights of sleep I have had in a long time! The room décor was beautiful with a bit of a modern vintage feel. I especially loved the bathroom! Everything was so clean and new feeling! The shower was incredibly spacious and bright as it was lined with white subway tiles. Because I am a sucker for fun beauty essentials I also have to mention that they had all fancy Crabtree and Evelyn products waiting for us. I didn't even use the shampoo I had brought from home which almost never happens when I stay at a hotel.
Once we got ready we headed downstairs for dinner. I don't know about you, but when I think about a hotel restaurant I usually think it will have "OK food and ambiance" at best. The Matadora was ANYTHING but "OK". I mean, this is the kind of food you happily drive 3 hours for and just consider the gorgeous hotel a bonus. The décor was upscale with such a cool modern vibe. You can see right into the kitchen to watch the chef's at work and they had live music to set the romantic Spanish tone for the meal. To start, the drink menu was incredible with some of the most creative and delicious cocktails I have ever had. After a drink or two we ordered a number of tapas along with our entrées. Every time a plate came out I would tell my husband that it was the best thing I had ever eaten…until they brought out the next plate. Our food was not only delicious but the whole meal was truly an experience. From cooked oysters that come out bubbling over a mini charcoal grill to the amazing desert we ordered that came with a side of "blueberry soda" to pour over it, the Matadora gets you interacting with your food and experiencing it in a new way. We met the manager and I told him this had been the best meal that I had maybe ever had in my life. He told me their chef, Stephen Coe, had won all sorts of awards, had just won Chopped and was due to compete against Bobby Flay soon. After the meal we had I was not at all surprised. I just kept thinking "Bobby Flay… Watch out because you are in some serious trouble!"
The next morning we had plans to walk around Boston but we were enjoying the hotel so much that we decided to rest and hang out there for the afternoon instead. We had an amazing breakfast full of everything you could think of from pancakes and bacon, fruit and oatmeal to make your own omelets. We grabbed a coffee to go and headed back to our room. I sat reading for a good hour or two on our private balcony under a gorgeous glass atrium and felt like I was in the tropics basking in the sun. Justin went for a run in their gym and then we ordered room service for lunch. It was after 3 by the time we got into our car to head into Boston and part of me would have been totally fine never leaving the hotel at all.
In Boston we met up with some friends who live in the city and walked around Beacon Hill. It's the older part of the city full of fantastic store fronts for window shopping and the cutest cobblestone streets. We stopped in at an adorable bakery for fancy cappuccinos and pastries to warm up. After walking around a bit more we had a delicious dinner at a great Mexican restaurant with our friends and then headed back to our cozy pillow toped mattress for another great night of sleep. Overall it was just the perfect weekend! I couldn't recommend the Hilton Boston Woburn more! It's the perfect weekend getaway and Boston is such a charming city to explore. If you live in the Boston area you definitely need to check out The Matadora for dinner. Trust me, it will be one of the best meals of your life!
Xo,
Kelly