Valentine's Day Ready Tablescape with Year and Day Ceramics.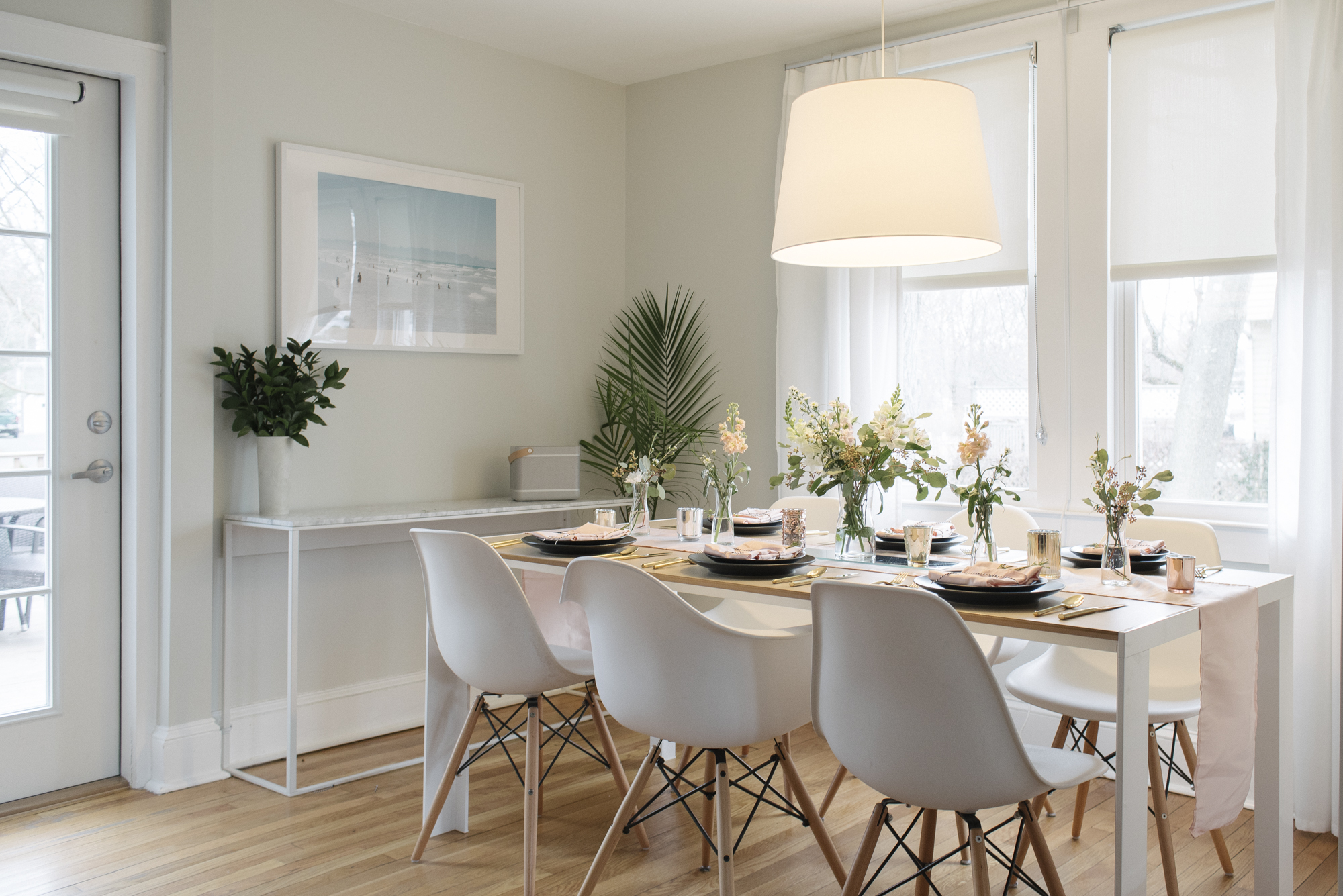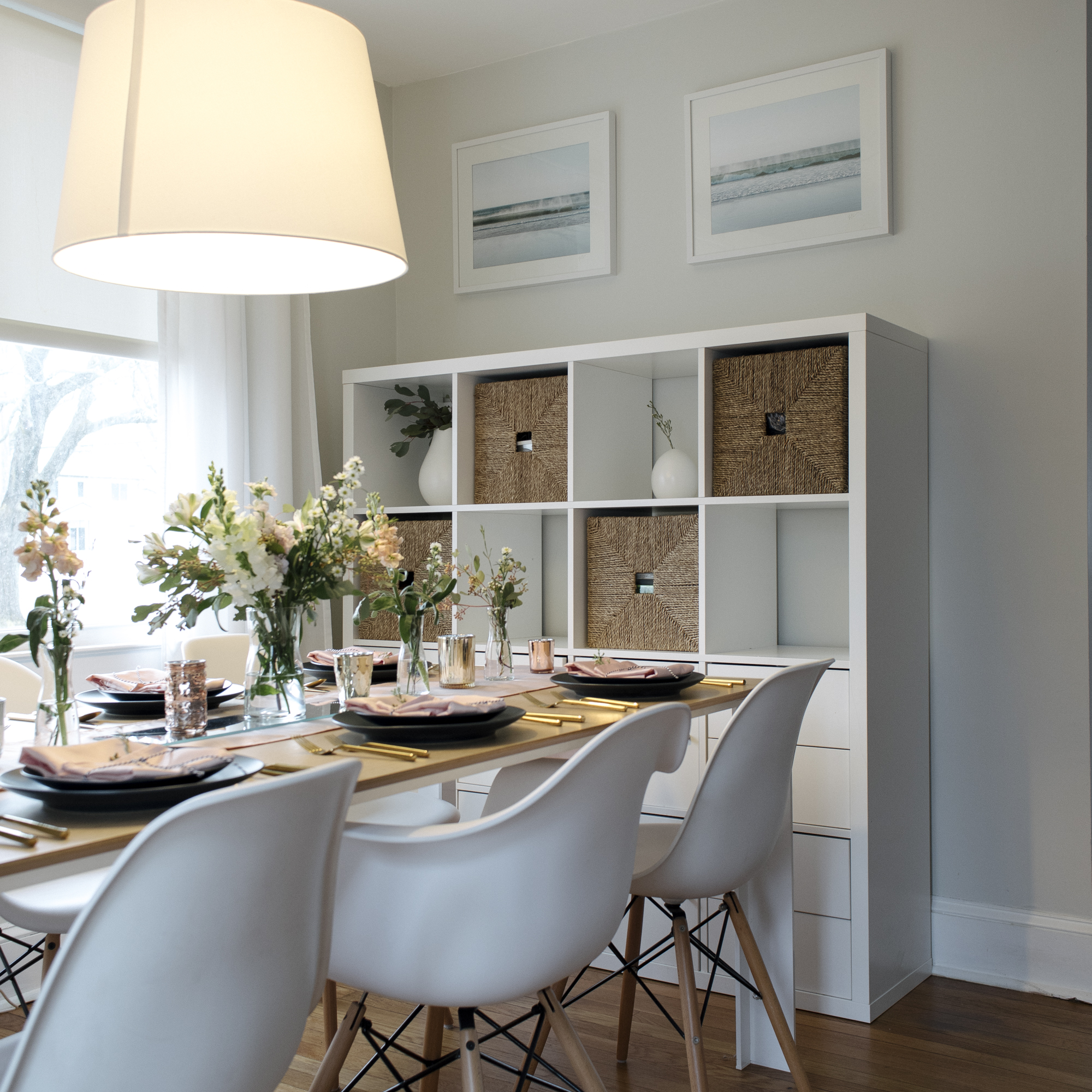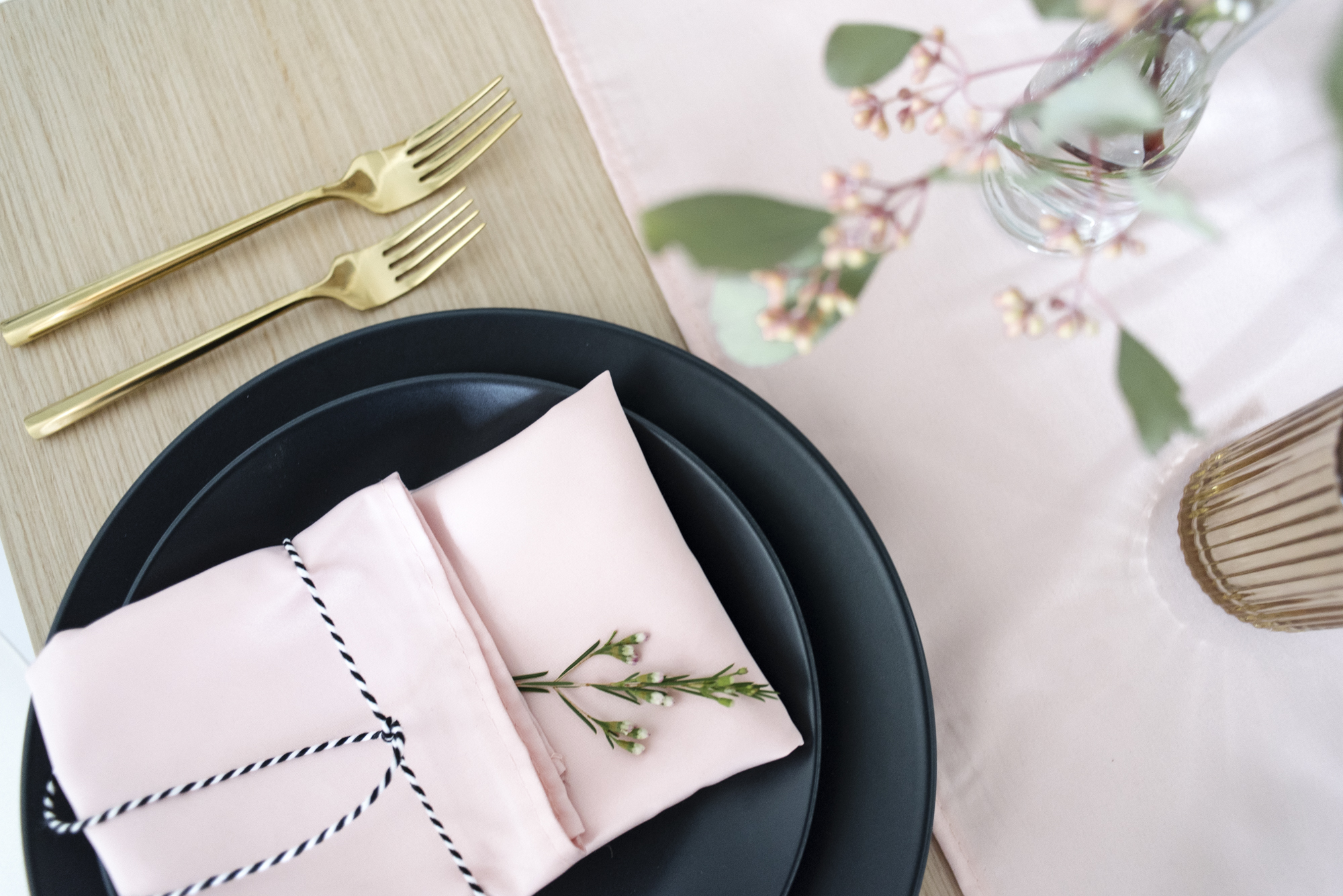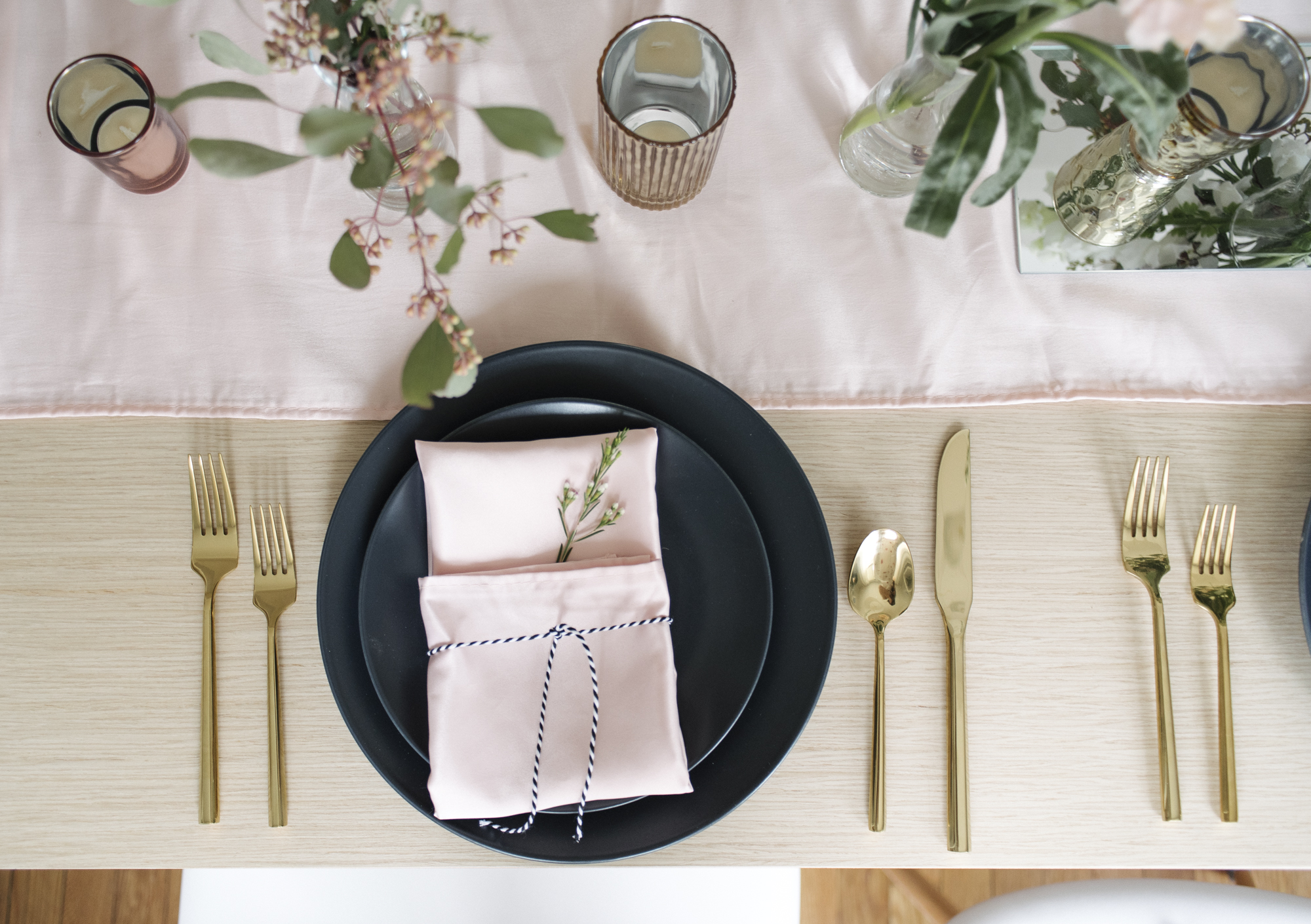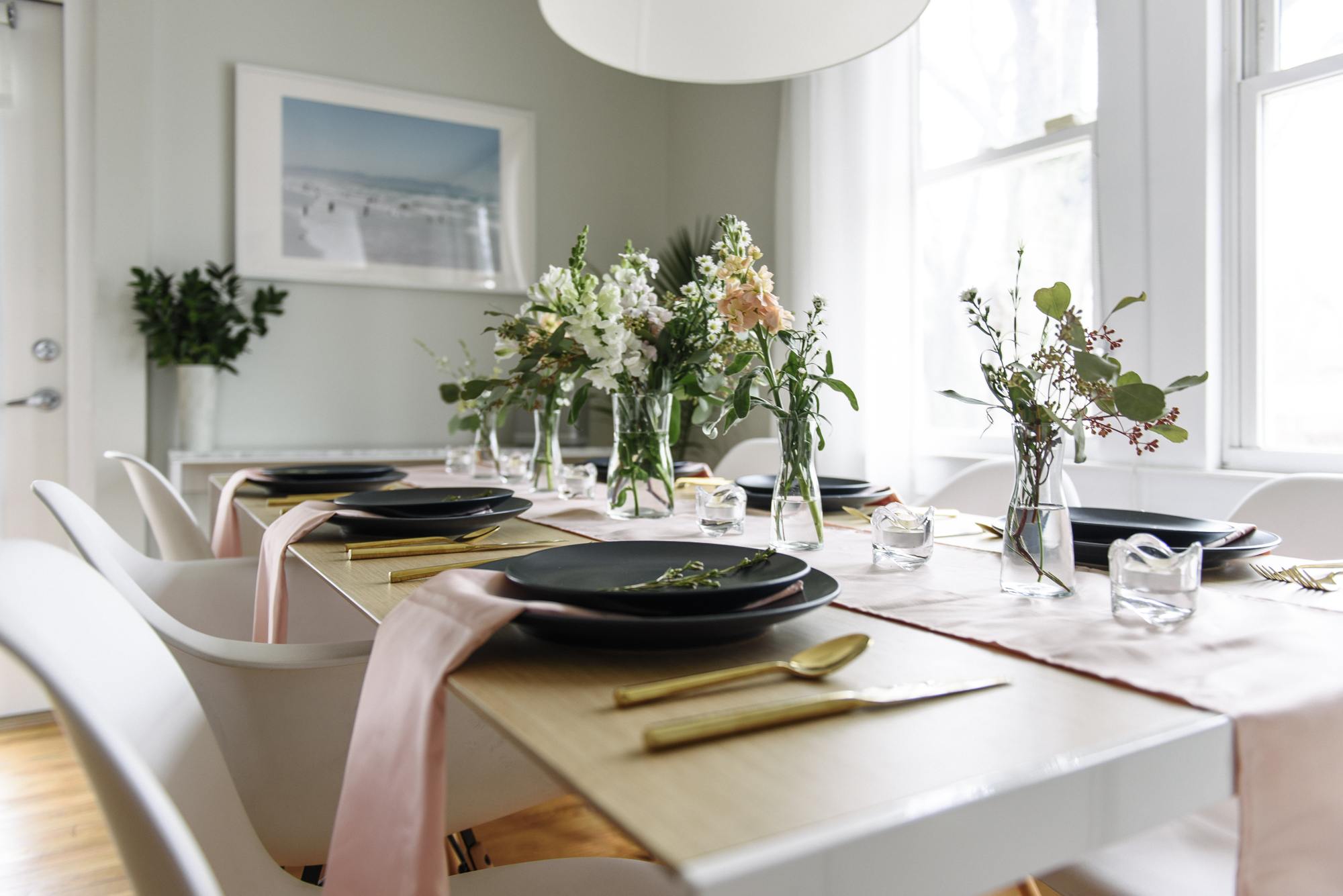 Spring is just around the corner and whether you are hosting a Galentine's Day party, or you are already planning your Easter celebration, a beautifully decorated table goes a long way to brighten up your home and make your guests feel welcomed. The perfect tablescape does not need to be an overwhelming thing to plan out if you have a few of the right pieces on hand. I actually bought everything I needed (aside from flowers) for this tablescape for under $20. The key to a great tablescape is having the table look balanced. I found this perfect center vase for my flowers from Ikea for only $6. It conveniently had tiny vases that matched to help create a beautifully balanced look across the table. I then added a few votive candles between each vase for a warm and classy feel. I found the runner with matching napkins on amazon and the blush color really pulled the whole romantic spring feel together.
For me, the most intimidating part of a table scape is always what to do with the napkins. I wanted to show you two options so you could play around with the right feel for your tablescape. The first option I went with is a folded napkin with a flower inserted into the fold. This really gives the table a more classic and warm feel. The second option I went with was to tuck the folded napkin between the two plates and then I added a delicate flower to the top of each appetizer plate. This gives a more classy and modern feel to the tablescape.
While the centerpiece turned out great, my favorite part of this tablescape was definitely our new midnight blue dishes from Year and Day. Year and Day is a woman led, tabletop brand from San Francisco. Their ceramics are all designed in CA and forged, fired and finished in Europe. Each plate is gorgeously crafted, freezer, microwave, dishwasher and oven safe. I personally love the modern minimalistic feel. Our family can be a bit hard on dishes so I was also thrilled with the high quality and durability of the designs. I am incredibly thankful for Year and Day sponsoring this post as we have completely fallen in love with this brand.
Good luck with your tablescaping! Please always feel free to share pictures of your own tablescapes with me over on IG! I am only a DM away and I love to see what you create!
Xo,
Kelly